Dear Ladies!
For the fifth time, we invite you to this unique event Cause I'm a Women. This year edition's theme will be "I'm feeling good".
We have invited excellent instructors from Poland and abroad who will conduct dance workshops on three levels, focused mainly on solo movements 🙂 As part of accompanying events, we invite you to retro hair and burlesque workshops.
For the first time we also have Lindy Hop workshops for you, which will help you to better understand connection as well as leading and following parts.
We also would like invite you to three great parties, which we will of course let men in. On Saturday will be a unique Masquerade Ball in the beautiful DK Giszowiec hall.
Speaking of the guys… in this edition we have prepared for them the event Cause I'm a Man | Warsztaty Dla Panów, so you can come to Katowice together.
In addition to dance and parties there is a number of accompanying events related to fashion and styling. Open lectures led by Pin Up Candy and Cherry Bee, workshops and presentations. If you have too much clothes in your closet, bring them in! You can sale or exchange them during Retro Clothes Exchange. There will also be some contests you can take part in.
Save the date and check also here: https://www.facebook.com/events/1877948582256096/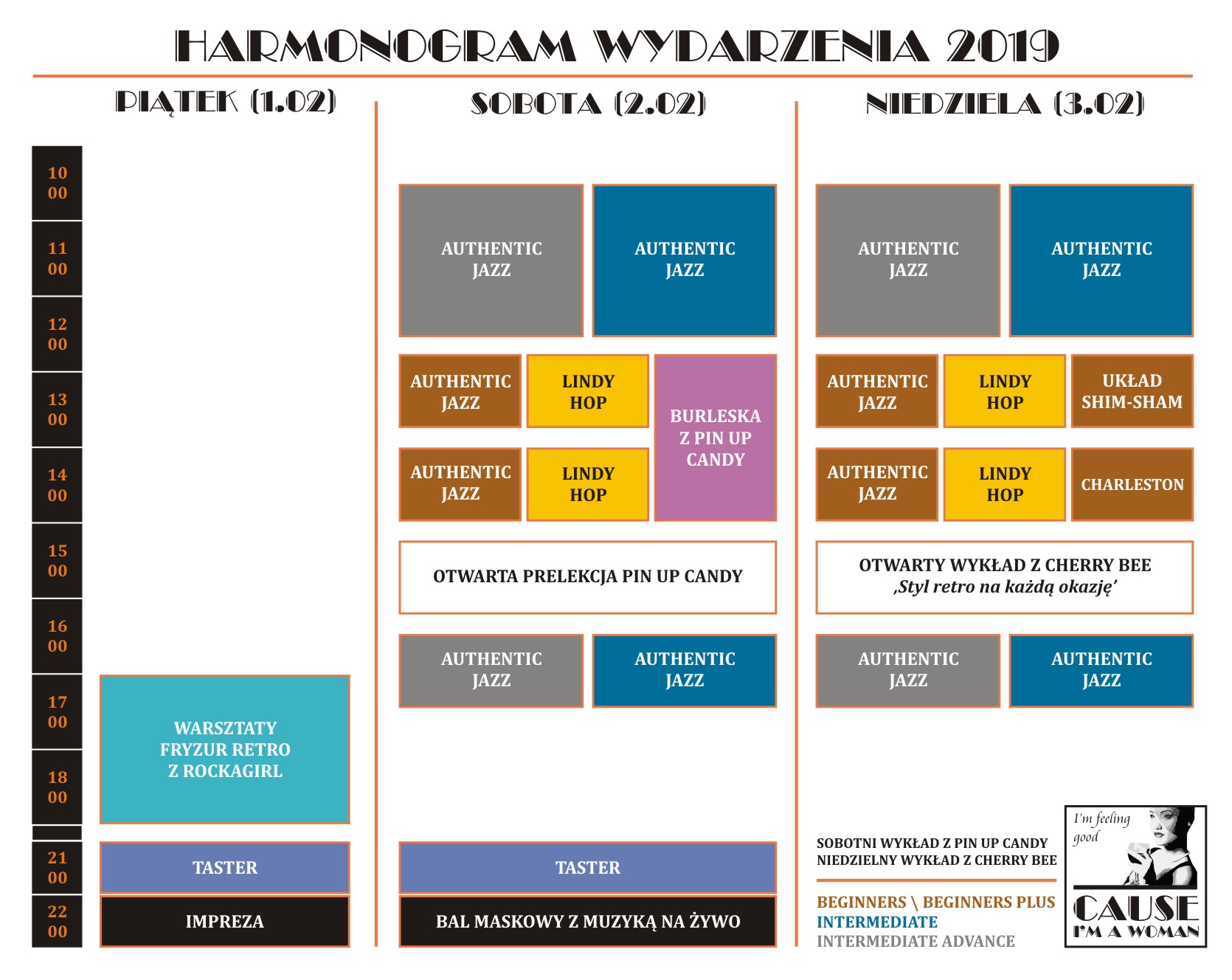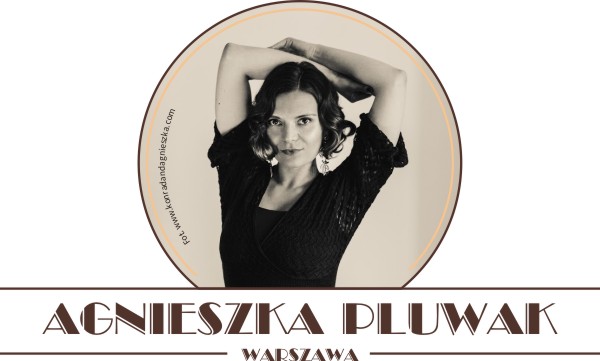 Agnieszka zaczęła tańczyć w wieku 7 lat. Trenowała m.in. taniec towarzyski, afro, hip-hop oraz modern i Broadway jazz. Duże doświadczenie oraz zarażanie entuzjazmem naturalnie skierowały Agnieszkę w stronę nauczania. Tańca nowoczesnego i towarzyskiego uczyła m.in. w Niemczech i Hiszpanii, a obecnie rozwija warszawską scenę bluesową wraz z Konradem Pruśniewskim w ramach Swingout.pl • Studio Tańca Swingowego. Prowadząc zajęcia stale poszukuje nowych metod przekazywania wiedzy, inspiracji oraz rozwoju każdego z uczestników. Jest finalistką prestiżowych konkursów tańca bluesowego, m.in. podczas festiwali Drag the Blues w Hiszpanii (trzecie miejsce w konkursie J&J 2016, drugie w crazy J&J 2015), Bluesila na Litwie (drugie miejsce w konkursie J&J 2015) oraz allin' Blues we Francji (1 miejsce kategorii solo, drugie w J&J 2016).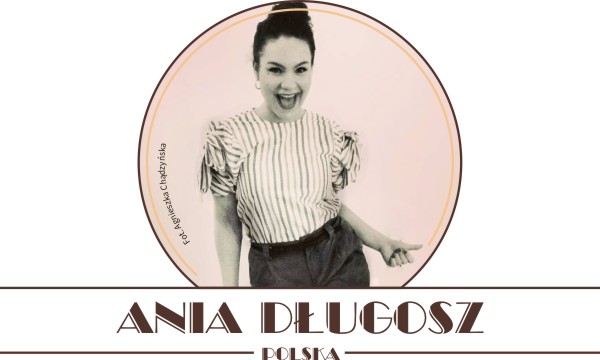 Ania jest osobą, która ze swoim szerokim uśmiechem wydaje się być najszczęśliwszą osobą na świecie. Aktywnie uczestniczy w rozwoju sceny swingowej w Polsce, obecnie w Warszawie. Regularnie podróżuje na zagraniczne warsztaty, ale największą inspirację stanowią dla niej artyści minionych dekad, jak: Judy Garland, Gene Kelly, Fred Astaire, Nicholas Brothers, czy Bob Fosse. Tańczy od zawsze, nieustannie i wszystko, bo słysząc muzykę nie może usiedzieć w miejscu. Na parkiecie wciela się w role zarówno followerki, jak i leadera, jednak to tańce solowe pasjonują ją najbardziej. Dziś instruktor, choreograf i wciąż pilny uczeń, z przyjemnością dzieli się swoją wiedzą z innymi.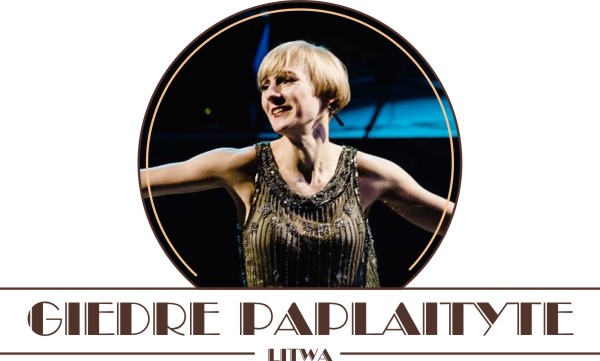 Giedre zakochała się w tańcach jazzowych ponad dekadę temu i nie pamięta już życia przed Lindy Hop i całym tym jazzem. Kiedy nie uczy podróżując po całym świecie, można spotkać ją na parkietach w Wilnie lub Berlinie, gdzie obecnie mieszka.
Sekretem niewyczerpanej energii oraz inspiracji dla Giedre jest nieustanne uczenie i dzielenie się miłością do muzyki i tańca.
Jest znana ze spontanicznych występów solo i pozytywnej energii na zajęciach.
W czasie jej warsztatów pracować będziemy nie tylko nad muzykalnością i ekspresją, ale również techniką ruchu wzbogacającą pewność siebie w tańcu.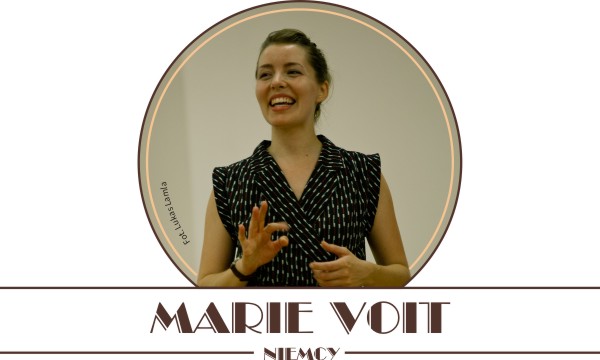 Marie zaczęła tańczyć, gdy miała zaledwie 6 lat. Ćwicząc balet przez ponad 10 lat, jak również próbując Hip Hopu, Jazzu oraz Tanga, miała możliwość nabyć dogłębną wiedzę na temat świadomości i kontroli własnego ciała. Gdy ostatecznie napotkała na swojej drodze Lindy Hop w 2012 roku, była to miłość od pierwszego wejrzenia. Od tamtej pory, uczestniczyła w jak największej liczbie warsztatów, zajęć oraz konkursów i zaczęła uczyć tańca w 2013 roku. Ukończywszy regularne nauczanie Lindy Hop i Authentic Jazz dla the Dresden Hepcats jak też na lokalnych i międzynarodowych warsztatach, Marie mieszka obecnie i naucza w Berlinie. Połączenie jej długiego doświadczenia w tańcu oraz pasji do Swingu i swingowego rytmu sprawia, że wszyscy czerpią przyjemność z prowadzonych przez nią zajęć.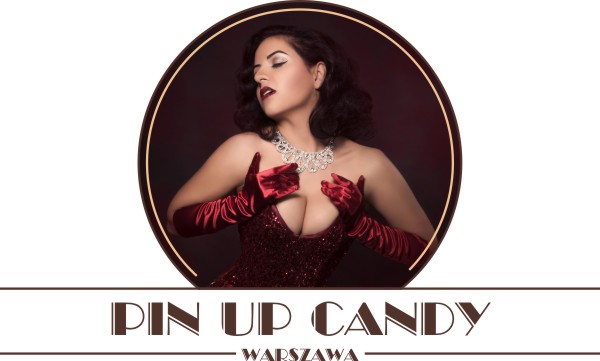 Pin Up Candy, Królowa Polskiej Burleski, jest międzynarodową, utytułowaną gwiazdą burleski. Jej pokazy są znane w takich miejscach jak Paryż, Berlin, Wiedeń, Tel Aviv czy Ibiza. W 2016 roku na międzynarodowym festiwalu w Moskwie wygrała koronę Królowej Klasycznej Burleski.
Pin Up Candy jest najbardziej rozpoznawalną gwiazdą tej sztuki w Polsce, możecie ją Państwo znać z programów takich jak Mam Talent, zasiada w jury polsatowskiego programu Śpiewajmy Razem.All Together Now, Ugotowani, DD TVN, Pytanie na śniadanie, Dobrenocki oraz z publikacji: Wysokie Obcasy, Maxime, Glamour, Claudia, Przekrój, Super Express i wiele innych.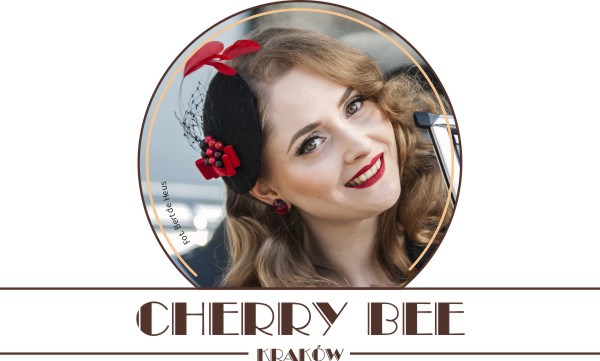 Cherry Bee:
Pierwsza Polka, która dwukrotnie stanęła na scenie w Las Vegas podczas największego festiwalu Rockabilly na świecie: Viva Las Vegas.
Finalistka Miss Viva Las Vegas 2018, Vice Miss Los Ama's 2017 w Belgii.
Organizatorka największych Stref Pin-Up w kraju.
Modelka oraz propagatorka stylu Pin-Up w Polsce, założycielka grupy na FB:
- Retro w Polsce- bez postów sprzedażowych
Ambasadorka marki: Woody Ellen Bags w Polsce.
Autorka bloga: The Pin-Up Room oraz kanału na YouTube pod tą samą nazwą.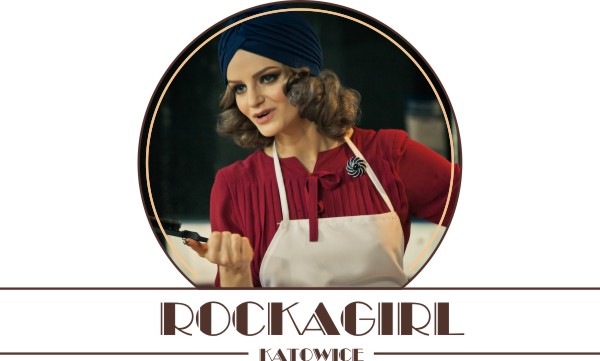 Rockagirl to najpopularniejsza modelka retro i pin-up w Polsce. Kojarzona przede wszystkim ze współpracy z markami odzieżowymi i bieliźnianymi z Polski, jak na przykład Greta Store i Natabo, oraz z zagranicy, między innymi The Seamstress of Bloomsbury, Glamour Bunny czy The Deco Haus. Poza tworzeniem stylizacji do każdej sesji, Rockagirl samodzielnie przygotowuje swój makijaż oraz fryzury. Współpracuje z profesjonalnymi fotografami z całego kraju, lecz wiele zdjęć wykonuje także sama w domowym studio.

FREE RETRO SWAP
Dear Ladies!
During your weekend you will have the opportunity to exchange and sell retro clothes that you have in wardrobes. This is a great opportunity to ventilate the wardrobe, get new creations and prepare for the new year in vintage style.
Detailed rules for the sale and exchange of clothes will soon be available.
We do not charge any fees, and the event is open to all Ladies!
SATURDAY BALL
2 February 2019 | 20:00 - 1:00
Sala MDK Giszowiec
Plac Pod Lipami 1 - 3
SATURDAY LECTURE WITH PIN UP CANDY (IN POLISH)
Event is free and for everybody.
More details soon.
KATOWICE
2 February 2019 | 15:15 - 16:15
SUNDAY LECTURE WITH CHERRY BEE (IN POLISH)
RETRO STYLE FOR EVERY OCCASION.
If: - you always wanted to try to dress up in a "retro style", but you are afraid of comments about being disguised,
- you do not know how to start,
- you do not know how to complete the wardrobe,
- you do not know if modern brands can be helpful?
In this situation, this lecture combined with the presentation is for you. Our host will show you that dressing up "retro" every day, including dance classes, is possible 🙂
KATOWICE
3 February 2019 | 15:15 - 16:15
WORKSHOPS WITH ROCKAGIRL (IN POLISH LANGUAGE ONLY)
We cordially invite all ladies interested in the retro style! During the workshop, our teacher will make one hairstyle from scratch, the individual elements of which can be freely used to create completely different hair styles. The workshops will take the form of an interactive show. You will have the opportunity to ask questions, take photos during, try out accessories, and get personal advice after the workshop.
Theoretical part:
- discussion of the most characteristic hairstyles from 1920 to 1960,
- discussion of the most common mistakes made while creating retro hairstyles,
- presentation of the necessary hairdressing accessories, cosmetics, as well as some hair accessories that are sometimes an inseparable part of the hairstyle,
- familiarization with selected literature related to the topic.
Practical part (demonstration):
- hair curling and combing in order to obtain retro waves
- victory rolls
- backroll (using a filler)
1 February 2019 | 17:00 - 19:00
Price of workshops (2 hours) - 15,00 Euro
Katowice
BURLESQUE WORKSHOPS WITH PIN UP CANDY
Burlesque is a love of femininity in a retro style and, above all, good fun. During the classes we will practice the awareness of our own body and the stage one. The burlesque workshop is a combination of choreography with the use of props and theatrical dance figures. There will be mimicry and learning elements of striptease, which is an indispensable part of modern burlesque. You will learn how to pull a glove sexy or provoke temptation with a feather feather boa. Choreography from the workshop can inspire girls to continue learning this charming stage form or it can be used during a spicy evening with a beloved one.
2 February 2019 | 12:45 - 15:00
Price of workshops (2 hours) - 20,00 Euro
Katowice
PLACES
We will gradually complete the list of places. For sure, all events will take place in the very center of Katowice, no more than 15 minutes (on foot) from the PKP railway station. The exception is the Saturday Ball, which will take place in the Giszowiec district, 15 minutes by car from the railway station
---
S1 - School Dance La Clave - Dance Workshops, Lectures  - Chorzowska 11 Street (entry from Grażyńskiego 15A)
S2 - School Dance Prestige -  Dance Workshops - ul. Sokolska 31 Street
P1 - MDK Giszowiec - Saturday Party - Plac Pod Lipami 1 - 3 Street
LEVELS
At this edition, we plan workshops at several levels of proficiency, which will depend on the type of classes. The main Authentic Jazz workshops will be on three levels, of which Audition will be the highest 2. We are planning a simple interview, which will allow our instructors to divide you into two groups and orient yourself in a level.  
AUTHENTIC JAZZ BEGINNERS / BEGINNERS PLUS
For women dancing from 0 to 6 months, i.e. not yet in contact with swing dances or dancing very briefly. The experience at Lindy Hop is also included in the internship.
AUTHENTIC JAZZ AND LINDY HOP INTERMEDIATE
For women dancing from 6 months to 1.5 years, who know the basic arrangements solo and have had contact with Authentic Jazz at workshops or courses.
AUTHENTIC JAZZ ADVANCE
For ladies dancing over 1.5 years, who know solo arrangements, have experience at Authentic Jazz and at Lindy Hop and regularly take part in classes and workshops.
PRICES 2019
Solo Workshops+Parties ( Int. & Int. Adv.)
6h classes + 2h tasters + 3 parties - 60,00 Euro
Solo Workshops+Parties (Beginners & Beginners Plus)
4h classes + 2h tasters + 3 parties - 40,00 Euro
Lindy Hop Workshops+Parties (Intermediate)
4h classes + 2h tasters + 3 parties - 40,00 Euro
Party Pass (3 Parties + 2 Tasters) - 15,00 zł Euro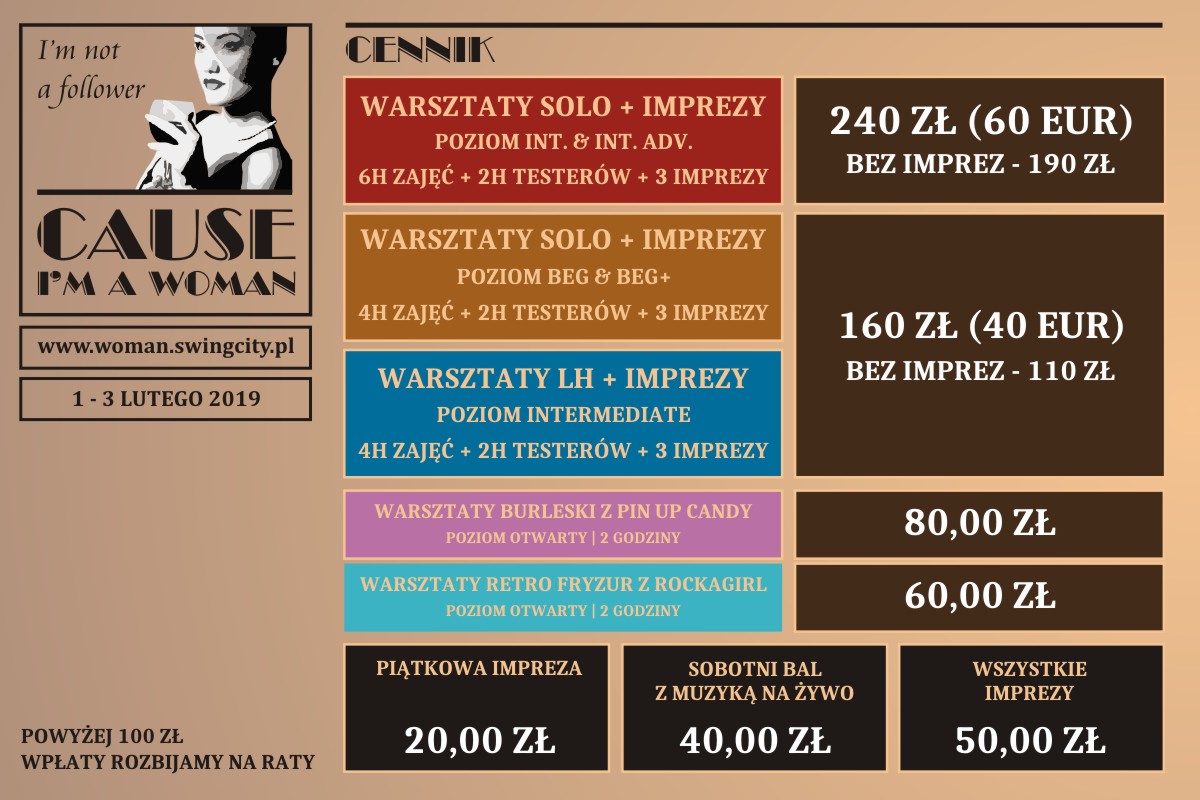 REGISTRATION
Link do rejestracji: https://goo.gl/forms/Z7dqlg2YdZ5MuFE42
Prosimy o dokładne wypełnienie formularza. Za jego pomocą można zarejestrować się na wszystkie warsztaty i imprezy w ramach wydarzenia.
CONTACT
www.woman.swingcity.pl
e-mail: swingcity.katowice@gmail.com | swingcity.eventy@gmail.com
mobile 693 40 60 42
PARTNERS
Szkoła La Clave (www.laclave.pl) - co-organizer of event
---
Lukas Lamla Fotografia - partner of event
Film Parrot - partner of event